If you're curious about the advantages of eLearning for your company, then this blog post is for you! You might be aware of the huge uptake of online learning software within the business sector – particularly during the COVID-19 pandemic. Still, several trends are emerging in the field, offering genuine value to millions of folks worldwide who are training remotely.
What Are The G2 Awards?
G2 is the world's largest B2B software and services review platform. Each month, millions of business professionals, buyers and investors visit the G2 website to identify the best software on the market. By aggregating thousands of authentic reviews from real users, G2 annually name and award the best software companies out there – and this year, we are delighted to be among those receiving badges across several categories. From the beginning, Innform has put in the work to ensure that what we do offers the best outcomes for the companies that come to us for online learning products; and the categories we were awarded in underscores those core values.
What G2 Badges Did Innform Win?
Users Most Likely To Recommend – G2
This award truly put a smile on our faces since G2's research team identified that Innform's products and services clearly deliver for our users. Through the many reviews from our happy customers, it seems we're up there on the list of LMS software companies most likely to be recommended to others. It's a great all-rounder award, meaning that from the features our software offers, to customer support, Innform has been a positive choice for our clients.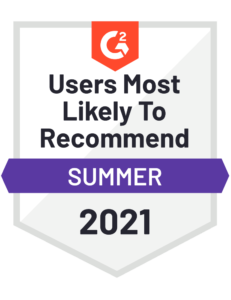 Best Meets Requirements – G2
From developing powerful learning software that gets the job done to ensuring our customers are satisfied with the packages they select, Innform is proud of our award for best meeting requirements. G2's scope is global, and so to be honoured with an award in this category puts us shoulder to shoulder with the best on the market when it comes to Learning Management Systems.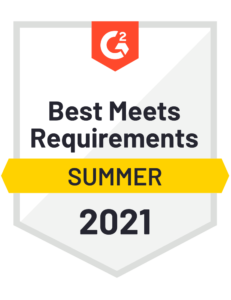 Best Support – G2
In scooping a G2 badge for Best Support, we're thrilled to be awarded for our approach to customer relationships and ongoing commitment to ensuring everything goes smoothly once a client decides to invest in our product. Learning Management software is an ever-expanding sector. We've consistently recognised that our users require top quality support and continual software development to ensure we work for them in the long term. In turn, it's so great to be recognised for this!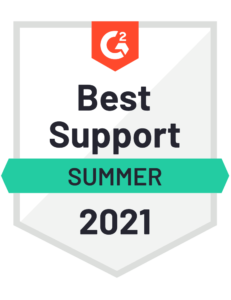 Best Estimated ROI – G2
Return on Investment is a significant factor at play when choosing a Learning Management System for your business, and G2's thorough survey of peer to peer reviews and recommendations demonstrate that Innform scores highly in this area. In being awarded a G2 badge for Best Estimated ROI, we can proudly say our users have voiced that our online learning software has been a valuable investment in their businesses. We look forward to helping more customers invest in their employees in the future.
High Performer – G2
We're officially high performers according to G2's data, which means that our customers recognise that Innform not only meets but exceeds their expectations. There are so many aspects involved in getting your workforce online, engaged in their learning journeys and upskilled for the benefit of their careers and your business. Innform attends to the details that make all the difference as well as the big picture.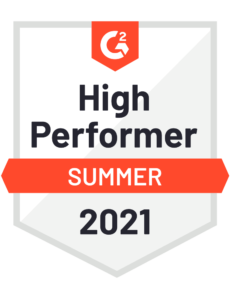 Easiest To Do Business With – G2
And last but not least, we won a G2 badge for excellent customer service. Engaging positively with companies who come to us for online learning software isn't just about the product we offer but also about fostering strong relationships and great communication. Investing in and running an LMS shouldn't be a struggle, and Innform has always worked to support and empower our clients in every aspect of their interaction with us. A G2 badge proclaiming 'Easiest To Do Business With' is one we'll wear proudly.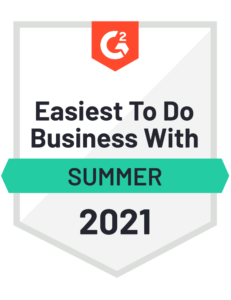 Innform Joins The Grid
In addition to awarding badges for specific qualities, G2 also develops a grid that rates global leaders in various categories, including Market Presence, High Performance, and Customer Satisfaction. All this data comes from verified customers' feedback, so a position on The Grid is based on real-life performance.
Furthermore, with an international scope, the G2 Grid considers niche operators, market leaders and new contenders alike. Well, we're going to blow our own trumpet here because Innform has appeared on The Grid for 2021, and we've been positioned exceptionally highly in the categories of High Performance and Customer Satisfaction. To sit closely to global software titans thanks to user reviews is an immense delight for us, and it's a position we intend to retain and improve upon going forward.
What are Innform's Next Goals?
Looking to the future, continual product optimisation and improvement in client support should be a standard mode of operation for all companies. Basing the way we do this on insights from our users and their honest reviews is one way we intend to strive for excellence as Innform grows. Our G2 badges signify we're getting things right, but we won't be resting on our laurels. Instead, we'll be looking at adding new features to our LMS product and finding even more ways to build healthy working relationships with our customers. Ultimately, we see these G2 badges as recognition of our strengths and an opportunity to keep aiming higher.